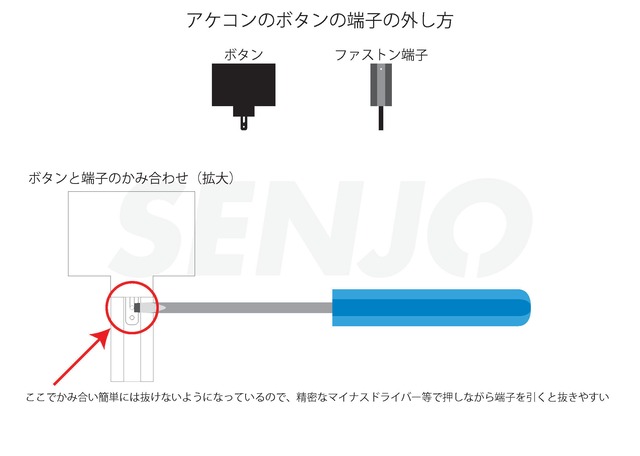 リアルアーケードPro.N HAYABUSA用木目シート(名入れ)/Wood grain sheet for Real Arcade Pro.N HAYABUSA(personalized)
Pre-Order Item
Scheduled shipping date: 06/19/2023
* Please remember this item is only sold from 05/22/2023 00:00 to 06/04/2023 23:59.
Japan domestic shipping fees for purchases over ¥40,000 will be free.
Shipping fee is not included. More information.
サイズ:幅約360 mm・高さ約230 mm
厚み:約0.3mm(剥離紙は約0.1mm)
素材:ヒノキ天然木ツキ板(白色)またはケヤキ天然木ツキ板(茶色)

リアルアーケードPro.N HAYABUSA用の木目シートです。
天然木のツキ板にミツロウで表面塗装を行いました。
高級感もあり暖かみのあるトップパネルにすることが可能です。
【SENJO】ロゴの箇所にオリジナルの名入れが可能な商品となります。
ネジ穴の加工を無しにもできます。

お手入れの際は、基本的に乾拭きで行って下さい。
水などに濡れたままにしておくと、シミや突板の浮き、芯材の膨張などが発生致しますので、水ぶきした後などは必ず乾拭きをして水気を残さないようにして下さい。
取り付けを行わず保管する際は、幼児・子供の手の届かない場所に保管し、反りかえり防止のために重しをのせて保管して下さい。
業務用となりますので、取扱説明書はございません。
製品の特性をご理解いただけるお客様のみご購入下さい。
当店では取り付けなどのサポート等は一切行っておりませんのでご了承下さい。
※掲載されている写真は装着例であり、アケコンは付属いたしません。
※写真はケヤキ製です。


Size: 360 mm (width), 230 mm (height)
Thickness: approx. 0.3 mm (release paper is approx. 0.1 mm)
Material: natural cypress wood veneer (white) or natural zelkova wood veneer (brown)

Wood grain sheet for Real Arcade Pro.N HAYABUSA.
By applying a surface coating with beeswax to a natural wood veneer and sealing it, it is possible to create a top panel with a luxurious and warm feeling.
The product can be personalized with an original name at the SENJO logo.
Can also be made without machining of screw holes.

When cleaning, basically wipe dry.
If the surface is left wet with water or other liquids, stains, floating of the veneer, or expansion of the core material may occur.
When storing the product without installing it, keep it out of the reach of children and infants, and put weights on it to prevent it from warping.
This product is for professional use only and there is no instruction manual.
Please purchase only if you understand the characteristics of the product.
Please note that we do not provide any support for installation, etc.
The pictures shown are examples of installation and do not include the acetylcholine.
The photo is made of zelkova.
Add to Like via app
ボタン配線図
Reviews

(1)

Shipping method / fee

Payment method